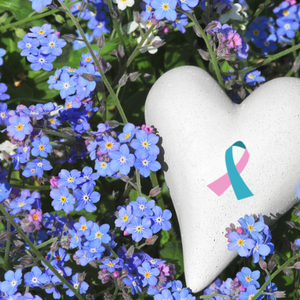 Forget Me Not - Pregnancy and Infant Loss collection
---
October has a special place in my heart. It's Pregnancy and Infant Loss awareness month. I'll be releasing the scent Forget Me Not (scent description below) on October 15th for pregnancy and infant loss Remembrance Day.  I'll be donating 40% of all sale proceeds of this scent to the The Star Legacy Foundation each month. I posted a little about them after the website link.
Pregnancy and infant loss is something I've been through multiple times and I know many people have also. I wish it wasn't something anyone ever had to experience, but I wanted to bring awareness to this because it is so common but rarely talked about. Feel free to share your stories below too.
My story. Please note there are Trigger Warnings for this! Don't read on until after the website link if you don't want to read the triggering story. 💜
TW:
On March 3, 2018 I went into preterm labor at 26 weeks 4 days with my son Scott Edward Anderson. He had been diagnosed with Trisomy 18 and a congenital diaphragmatic hernia in previous ultrasounds. Trisomy 18 is an extra 18th chromosome, this is also known as Edward's Syndrome. This can be life threatening along with very low compatibility with life. The Congenital Diaphragmatic Hernia is where the organs are pushed up into a hole in your diaphragm and requires immediate surgery once born. We had a lot of obstacles ahead of us but we wanted to give him a chance at life, unfortunately when he was born premature we were not close enough to the children's hospital for life saving measures and he passed away 3 hours after birth.
Then in April of 2021, I suffered a miscarriage on Easter weekend.
And again in June of 2021, I suffered another miscarriage on Father's Day weekend.
https://starlegacyfoundation.org/mission-and-vision/
WHO WE ARE
The Star Legacy Foundation is a 501(c)(3) non-profit organization dedicated to reducing pregnancy loss and neonatal death and improving care for families who experience such tragedies.  We are a community of families, health professionals, researchers, policy makers, and individuals dedicated to helping every pregnancy have a happy ending.
OUR MISSION
To increase awareness, support research, promote education, and encourage advocacy and family support regarding stillbirth, pregnancy loss, and neonatal death.
I'll post the amount donated at the end of each month in the group. 💜
This scent will not be eligible for discounts due to the charity donations.
Forget Me Not:
A soft white floral and fruity type with top notes of pear and citrus, middle notes of white rose, precious florals and gardenia, with an amber and musk base note.
Bundle options:
Thinking of You bundle:
1 cuticle pen, 1 car diffuser, 1 cuticle balm - $15
Hugs and Comfort bundle:
1 lotion, 1 cuticle pen, and 1 wax melt - $18
One Minute at a Time:
1 cuticle oil dropper, 1 lotion, 1 sugar scrub, 1 wax melt $38
Regular options:
Cuticle oils in pen, roller, dropper bottles
Lotion
Sugar scrub
Cuticle balm
Wax melts
Car diffuser
I'll post photos tomorrow of the products. 💙