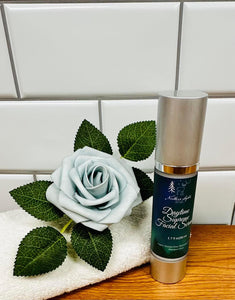 Daytime Supreme Facial Serum
Regular price
Sale price
$20.00
---
Daytime Supreme Facial Serum
1.7 Fl Oz
Provides mature skin with a needed boost of Coenzyme Q10. A long list of powerhouse ingredients elevate this serum, including Vitamin A (Retinyl Palmitate), Vitamin C (Ascorbic Acid), Vitamin B3 (Niacinamide), Provitamin B5 (DL-Panthenol), Vitamin E (Tocopherol), DMAE, Alpha Lipoic Acid, and Hyaluronic Acid.
Product Highlights:
Formulated for mature skin to tone, balance, and replenish
Includes powerful and essential CoQ10, as well as toning DMAE and moisture boosting Hyaluronic Acid
Silky and soft texture and finish
Rich in Vitamins to boost skin, including A, B3, B5, C, and E
Engaging and light natural aroma of very light rose
Suitable for all skin types, but targeted for mature skin.
Superstar Ingredients:
Coenzyme Q10
Alpha Lipoic Acid
Hyaluronic Acid
Vegan DMAE
Vitamins A, C, B3, B5
Attributes:
Vegan
No Added Gluten
No Added Phthalates
No Added Parabens
 Ingredients:
Rose Flower Water (Rosa Damascena), Organic Aloe Leaf Juice (Aloe Barbadensis), Emulsifying Wax (Cetyl Alcohol, Stearyl Alcohol, Polysorbate 60), Glycerin, DMAE Bitartrate (Dimethylaminoethanol Bitartrate), Meadowfoam Seed Oil (Limnanthes Alba), Vitamin E (Tocopherol), Sunflower Seed Oil (Helianthus Annuus), Vitamin C (Magnesium Ascorbyl Phosphate), Carrot Seed Oil (Daucus Carota Sativa), Hyaluronic Acid, Coenzyme Q10 (Ubidecarenone), Provitamin A (Beta Carotene), Vitamin A Palmitate (Retinyl Palmitate), Alpha Lipoic Acid (Thioctic Acid), Provitamin B5 (DL-Panthenol), Vitamin B3 (Niacinamide), Organic Sugar Cane Extract (Saccharum Officinarum), Organic Bilberry Fruit Extract (Vaccinium Myrtillus), Organic Sugar Maple Extract (Acer Saccharinum), Organic Orange Peel Extract (Citrus Sinensis), Organic Lemon Peel Extract (Citrus Limon), Organic Cranberry Fruit Extract (Vaccinium Macrocarpon), Organic Alcohol, Castor Oil (Ricinus Communis), Lecithin, Xanthan Gum, Phenoxyethanol, Tetrasodium Glutamate Diacetate